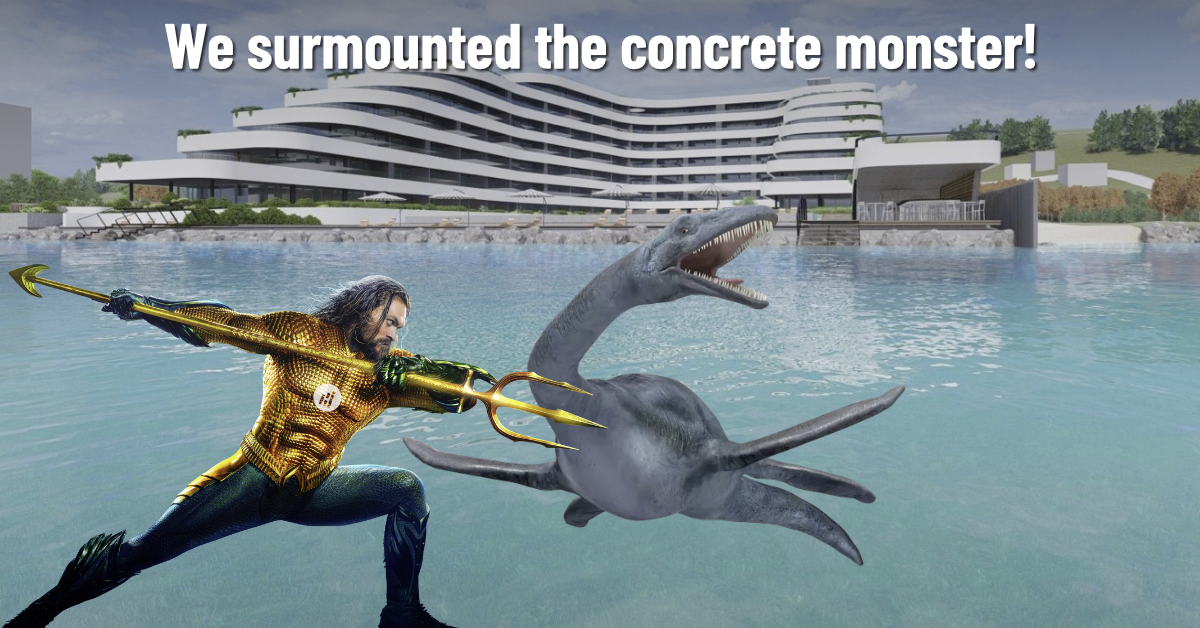 A contractor planned to build a luxury residential park-monster in the small, lakeside town of Balatonvilágos. [1] While the news spread only recently, it seems that everything had been settled in advance. The project was classified as crucial for the national economy. This meant that the contractor did not have to comply with any local construction regulation in the case of the nearly 23-meter-high complex planned to be installed directly on the shore. This would have also meant the destruction of the promenade and the free beach.
But we prevented this from happening! The site is no longer classified as crucial for the national economy; thus, the standard construction regulations apply. [2] Although the building permit is still valid, we have now broken through the biggest obstacle. This was accomplished thanks to the more than ten thousand people who signed the petition of the Aliga Bath Association (Aligai Fürdőegyesület) ; their joint action brought this success. We consulted with the association leaders even at the beginning of this week about how to initiate talks to have our voices heard on the highest levels. We were planning to organizes a meme-competition and proposed other ideas about how to include the most people to pressure the decision-makers.
Then, two days ago, Mihály Witzmann, the Fidesz MP responsible for this field, issued the following statement. 'Many people turned to me during the week regarding the concrete monster planned to be constructed on the shore in Balatonvilágos. (…) I think that the project in question is excessive and does not fit in the landscape in multiple respects. Construction on the Balaton shore is highly objectionable. I will do my best to ensure that the concrete monster shown in the plans cannot be built in this form in Balatonvilágos.'
The MP's stance against the project was an important step on the road to victory. But it was also necessary for us to raise our voices regarding this issue. It is also essential in other cases to speak up to force our elected representatives to take the public interest into account instead of the party-line.
However, for us to continue our work, we also need your support. Being a member of the civil society is a responsibility, often a financial one too.
We would like to ask you to support theVoice (aHang) if you can afford it, even with a donation as small as the price of a beach ball. This is the key to securing the future of our organization so that we can achieve similar successes in other towns around Lake Balaton and everywhere else in the country: https://tamogass.ahang.hu
[1] https://www.balatontipp.hu/balatoni_hirek/balatonvilagos-elojateknak-egy-92-lakasos-tarsashaz-a-club-aliga-szomszedsagaban/
[2] https://magyarnarancs.hu/kismagyarorszag/visszavonta-a-miniszterelnokseg-a-balatonaligai-lakoparkszorny-epitesi-engedelyet-237104