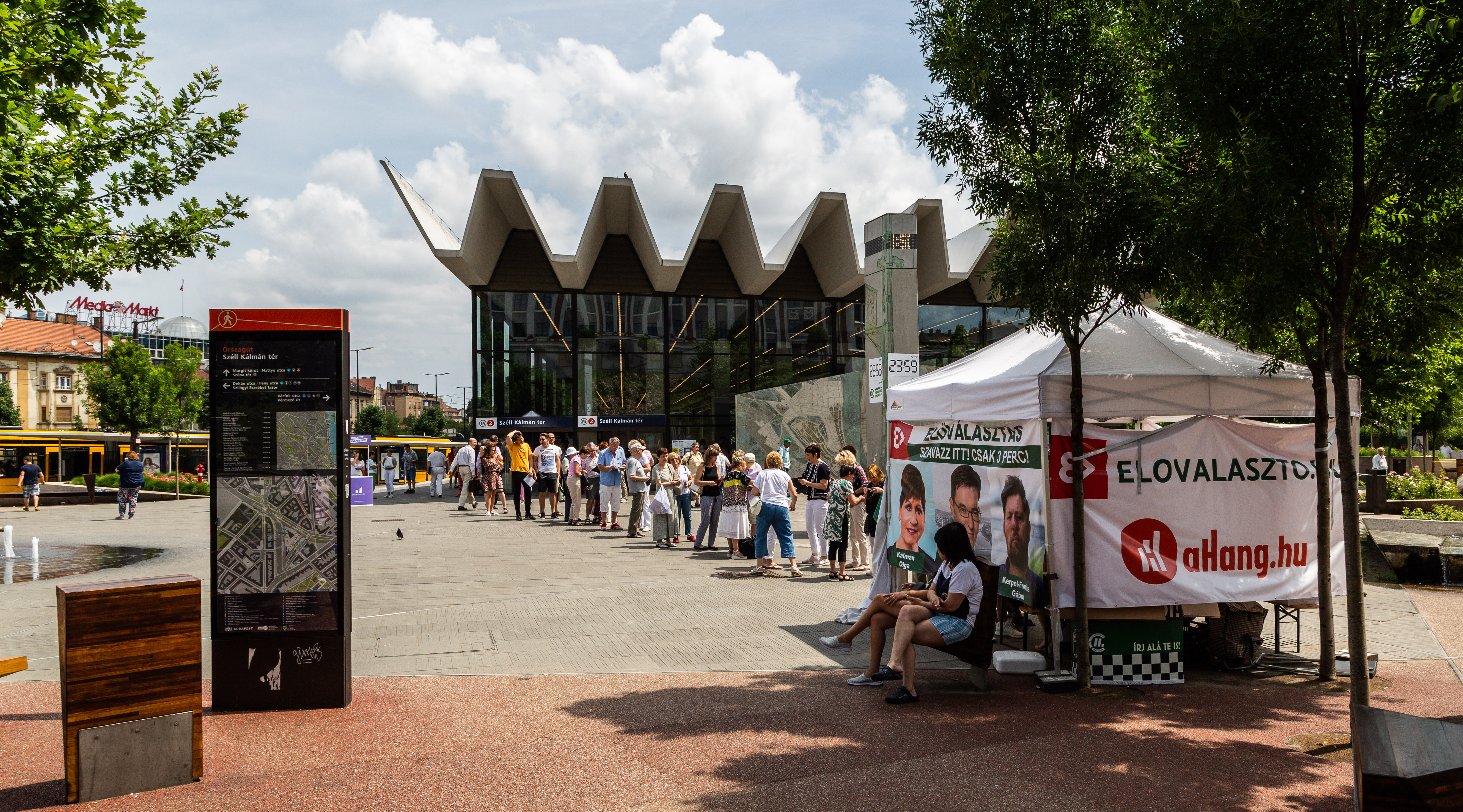 When in February 2019 we were contacted by the crews of Gergely Karácsony and Róbert Puzsér about the possibility of aHang organizing the local governmental primary elections, they made us face the most difficult decision in our organization's life so far. Quarreling, shouting, arguments and counterarguments within the team, for days and weeks. Literally. Fear. Fear of the reactions of the stakeholders and civil society organizations we have gotten to know and addressed, as well as those of the government and opposition media and opinion leaders. And generally fear, fear, fear, which is unfortunately increasingly permeating and defining this country. On the other hand, there was our faith in that by accepting the challenge we would be doing something good for public life and democracy in Hungary.
The final decision was made by about 2,000 people who completed the questionnaire we had sent out. We received a 95% authorization from them (we had not really expected this kind of ratio). From there, there was no question about what to do. Then, of course, big time politics have brought quite a few twists and turns, and we found ourselves navigating a totally unknown and uncertain path. During the negotiation process, we seriously considered quitting the game on several occasions, but we finally managed to reach and conclude compromises that were true to our mission and basic principles. Examples were the question of data management, the option of online registration and voting, or insisting on including a block on the situation of Roma communities in Budapest in the candidate debate we organized. So we can see in retrospect what we need to stick to even more next time (e.g. more transparent campaign financing, longer campaigning period for the sake of lesser-known candidates etc.) and what seems to be almost ridiculous now (for example, there was one particular sentence our fellow citizens had to sign during the vote even though we had insisted on the opposite). That said, looking back from now we do not mind having stayed part of the process and continuing the cooperation.
68,000 people went to vote so it was worth it. Without a question, 100-150 thousand would have attended if there had been more tents with longer opening hours, a longer voting period and so on and so on. The fact that we did not have at least twice as many people vote was purely a question of logistics and human resources, which is very important to underline. Even so, over a thousand civil society or party activists facilitated the process for a week – in 45 degrees of heat on the concrete pavement or in the dashing rain, not to mention the activists who were even campaigning for their own candidates besides doing all this. They have done a tremendous job.
Now a few words about the funds, expenses and donations put in by aHang. The amounts we have received for this purpose are as follows (as on July 10, 2019):
Total Income: EUR 13960.88 (donated by 731 people)
| | |
| --- | --- |
| Donations – bank transfer and donation box: | EUR 9000.04 |
| Donations – PayPal: | EUR 4960.84 |
Total expenses: EUR 18570.13
| | |
| --- | --- |
| Rental fees: | EUR 2731.83 |
| PR & Communication: | EUR 2967.15 |
| Expert fees: | EUR 1803.81 |
| Online streaming, cameras: | EUR 1597.92 |
| Web Development: | EUR 5261.93 |
| Travel costs: | EUR 54.48 |
| Small-value device purchases (tablets, headsets, measuring instruments): | EUR 1411.25 |
| Advertising costs: | EUR 929.51 |
| Supply Costs: | EUR 85.07 |
| Administrative costs: | EUR 1690.11 |
| Bank charges: | EUR 37.04 |
So on July 10, we are still in the red by EUR 4609.39 and we will have to make up for this amount in the next couple of months. It will be a great task. Since we will not use the money sent for our other campaigns to compensate for this shortfall, we can only spend the money received through our general fundraising page, which is accessible here:
https://terjed.ahang.hu/campaigns/tamogass
(That said, the purpose of this post is not to ask for money, so we will not go into details about this otherwise rather unpleasant shortage of money here – we will work it off soon!)
Finally, it is also important to note that, naturally, aHang will not become a primary election organizer – as we have already communicated through every possible channel when starting this project. That said, this was a very exciting, interesting and successful experiment and collaboration for us that we implemented together with the participating parties and civil society representatives. We have all learnt a lot. This story will continue to develop neatly and we consider it very important to have this institution be given greater emphasis in Hungarian politics over time. We will be working to achieve this goal in the coming years. It is possible that we will take part in other primary elections as organizers, but there are many other issues that are just as important to us. So, for example, we are not involved in organizing the upcoming primary election in Ferencváros.
Most importantly, we would like to thank everybody who have cast their vote, supported us with money, the candidates who carried it through, campaigned, gave interviews, attended debates, learnt, cooperated, and got to know and acknowledged each other. Also, special thanks to the representatives of the press who reported on the whole process. Without them, it would not have been possible to have so many people vote.
And last but not least, tremendous applause and love goes to the 137 aHang volunteers, with whom we will soon meet again and figure out how to go on! ☺