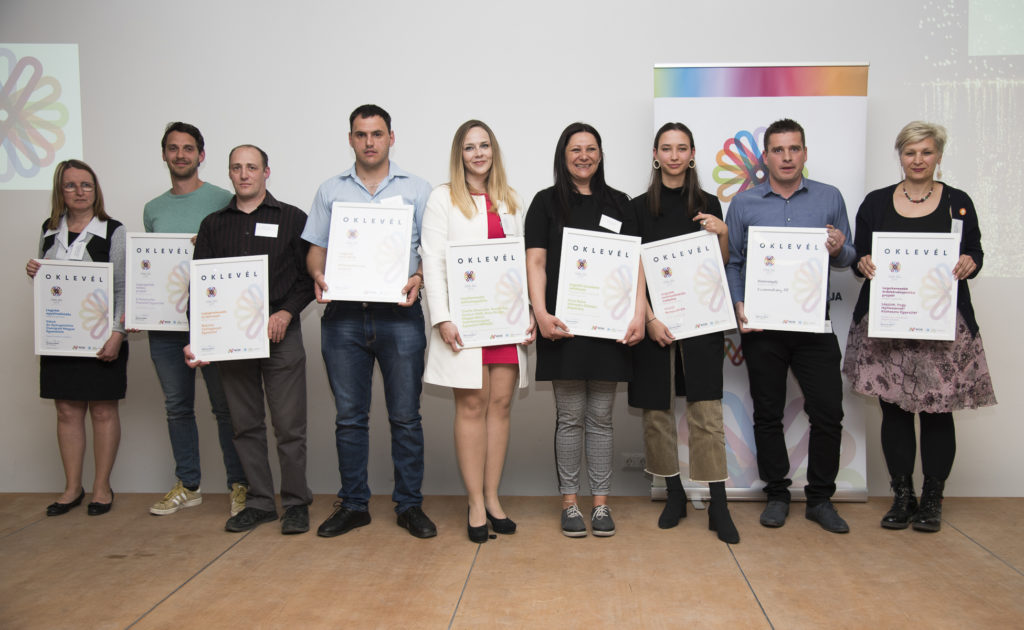 We are proud to announce that aHang's partners – the "Make a Move So They Can Make a Move" Public Association and the MátészalkaLeaks group – have both won the most prestigious professional prize, the Civil Society Award!
Mátészalkaleaks's Snail vs Train was selected as the best action of the past year, while the Campaign for Recognizing Home Nursing – which "Make a Move So They Can Make a Move" has run in cooperation with aHang and the CSEVE Group – won the prize Most Successful Advocacy Project of 2019. Both winning groups have been supported by the community organizing program of the Civil College Foundation, our partner organization.
Where Can You Rent a Snail Costume?
We recall the excited conversations and correspondence that took place last summer about where to rent a snail costume and how to organize press for the venue without MÁV, the Hungarian Railway Company, learning what we were planning. We had no doubt that MátészalkaLeaks's new action would be witty and effective, but we just could not stop admiring the final result. The advocacy group organized of local workers had been well-known in the region for their creativity, enthusiasm and commitment. However, with this action the group and the issue they represent – the renovation of the Debrecen-Mátészalka railway line – has become well-known throughout the country and even abroad. We are proud and happy that an action associated with one of our campaigns has been so successful!
The action and its aftermath clearly indicate what means should be used to draw attention to civil society issues.
https://www.facebook.com/szabadahang/videos/230386937610569/
Nothing Could Stop Us
The Home Nursing Campaign was launched on the Hang platform about a year ago. Almost all members of the team worked on this campaign for months, getting genuinely "engaged" during the work done with stakeholders. Together with the activists of "Make a Move So They Can Make a Move" and CSEVE, and all who look after a sick relative at home and their supporters, we wanted change – to improve the situation of tens of thousands of families affected by home nursing – so much that nothing could stop us. We mailed stickers, prepared for actions, wrote press releases and letters, and brainstormed for next steps 24/7. The result achieved made us immensely happy and gave us strength to continue: we will not stop until the work of all who care for a sick relative at home is recognized.
About the campaign and the success:
https://ahang.hu/kampanyok/hatalmas-eredmenyt-ertunk-el/2018/10/11/
We warmly congratulate all winners of the 2019 Civil Society Award. We are proud to have achieved success in such a strong civil society community!