Over 10.000 people have protested against the National Public Education Law with their signatures, and on 13 September, hundreds around the country demonstrated their dissatisfaction with the current state of education.
At the end of August, high school students started organizing again, with teachers joining the newly announced protest after the summer break. The students drew the attention of the public to the fact that they want to study differently from how the education system requires them to. On 13 September, dozens of alternative classes were organized in Budapest and in rural locations by the Free University, Free Spaces, and aHang, so students could not be accused of being motivated to skip school only.
We started the day with an information session by history teacher Tamás Szűcs (President of the Democratic Trade Union of Teachers), during which he talked to students about the Public Education Law, followed by students pinning their complaints about the educational system on a stylized map of Hungary. Meanwhile, Csenge Horváth (Invisible School) played a mentoring board game with the students. Then, students listened to an hour-long lecture on literary history given by contemporary poet Gergő Kőrösztös, which was followed by a discussion on educational inequalities with Juli Vujovits from the School of Public Life, entitled "Does school make you?" János László, the chief editor of Print It Yourself! gave a presentation on what we can do for the freedom of press. They took the smallest step together: the students were folding the latest copies of Print It Yourself! during the conversation, helping the distribution process. One of the highlights of the afternoon was a 1956 memorial walking tour in the 8th District of Budapest, held by historian László Eörsi.
"Parents, children and teachers are very important members of our society, and we need to provide them with opportunities and assistance when it comes to passing their messages, requests and demands on to policy-makers, and increase general social support for their cause with the means available. We'll amplify their voice!" – promised Dóra Papp, campaign manager of aHang, at a press conference in Auróra, organized prior to the alternative classes.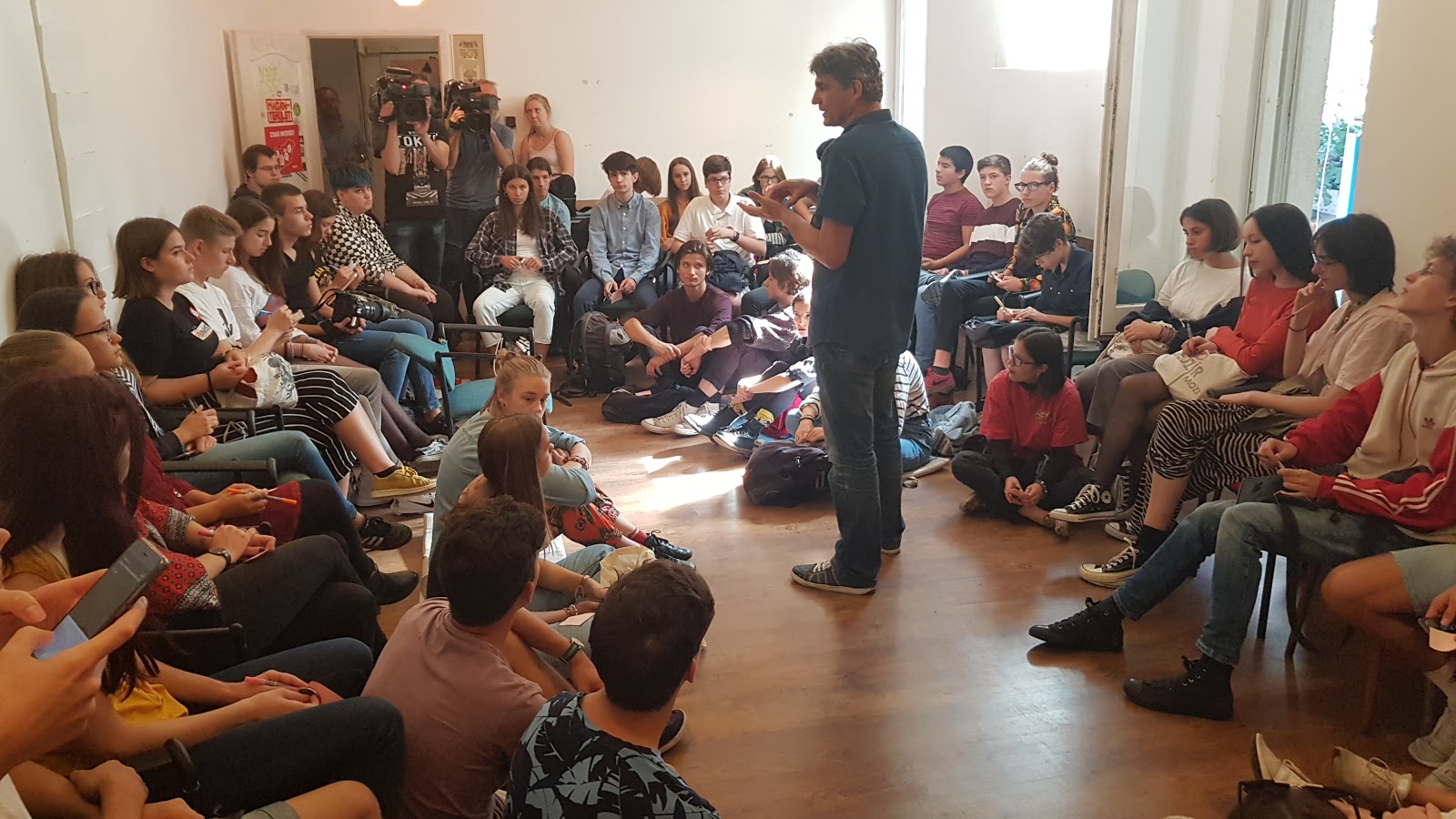 Check out ATV's summary of Friday's alternative classes:
http://www.atv.hu/belfold/20190913-a-tanulas-egy-alternativ-megoldasat-valasztottak-a-diakok/hirkereso
More than 11.000 signatories have joined the protest by the Free University and parents against the new Public Education Law. The organizations will carry on with the negotiations, with their goal being comprehensive education reform.